1979 Triumph T140D Bonneville Special USA Spec Matching Numbers Unrestored
View on eBay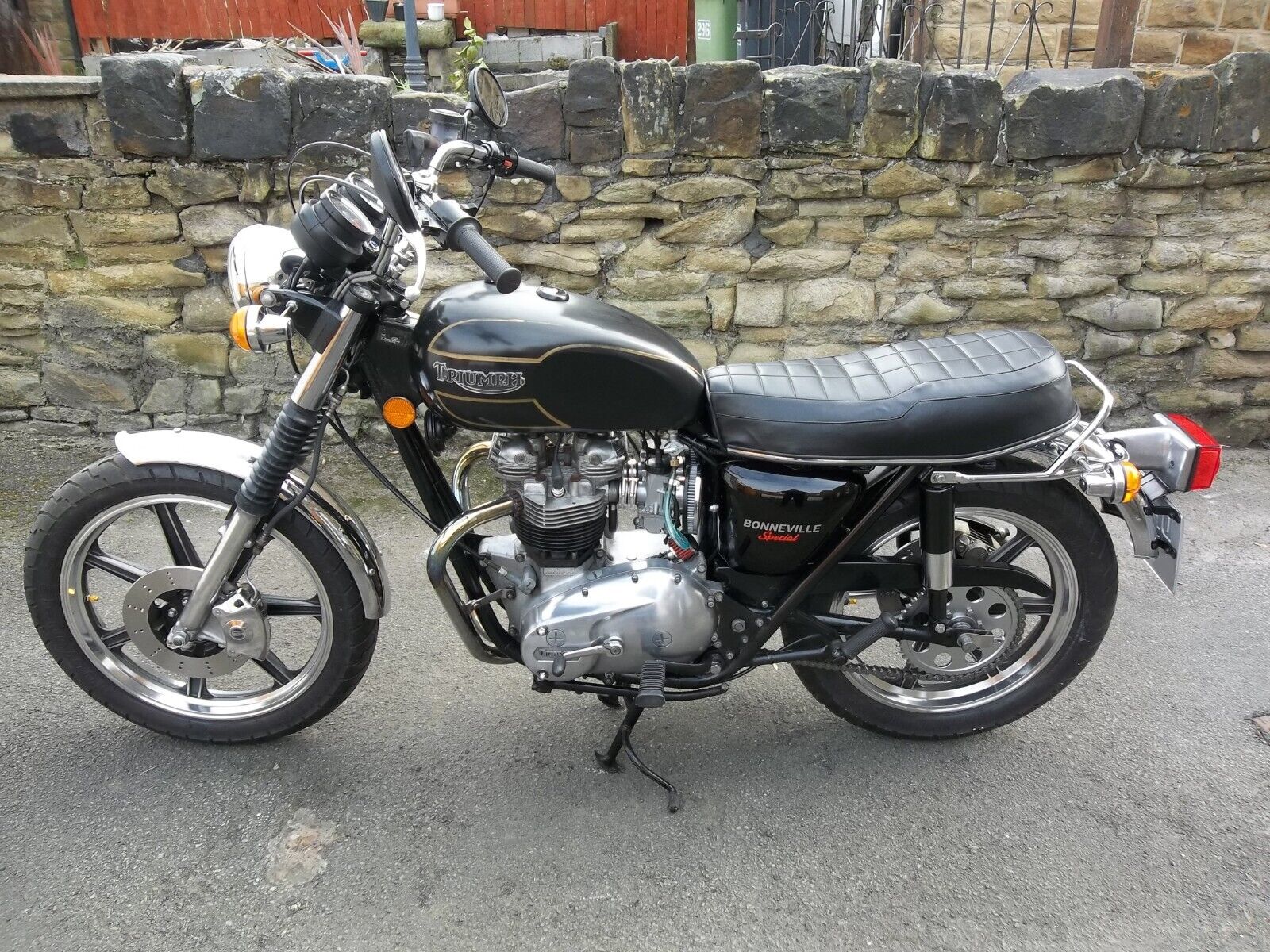 1979 Triumph T140D Bonneville Special USA Spec Matching Numbers Unrestored
I am selling a 1979 Triumph T140D Bonneville Special that is in 95% original condition, with matching numbers and is unrestored. The bike was originally manufactured in February 1979 and exported to the USA. I purchased it from a bike dealer in January 2020 and had it NOVA certified and registered in the UK in August 2020 as an historic vehicle on an age-related "T" registration.
The bike was supplied with an indicated mileage of just over 17,000 miles and had fresh fuel and oils, a new battery, and spark plugs, as well as a service by the dealer prior to the sale.
The bike is mostly original except for an American-made rear grab rail/backrest/sissy bar and aftermarket rear shock absorbers. However, the seat base and cover, original chromed brake discs, side panels, air filter boxes (incomplete), silencer, rear light, and idiot light assembly were in very poor condition. The gearbox neutral position switch doesn't work, and the seat lock key is missing.
I have fitted a new rear sprocket and chain, replaced all the control cables and perished rubber parts, refurbished the front forks, and fitted a new seat cover. I also fitted lightened and perforated brake discs, an original new rear grab rail, an original rear lens, an original new idiot light decal, and lights. The wiring loom was checked and all connectors were cleaned or replaced as required. A new solid-state voltage regulator was fitted.
The ignition circuit was checked, and the pick-up and transducer were producing a signal. Sparks were present when the ignition was switched on and off, but not when the engine was turned over. The original Lucas Rita electronic ignition power circuit was still working, but the capacitors degrade over time, causing the control circuit to fail. I fitted a Rex's Speed Shop electronic ignition system replacement for the actual PCB in place of the original Lucas Rita unit. The bike now starts on the first or second kick with the throttle slightly open. The gearbox and clutch are good, and neutral is easy to select.
The original air filter boxes and side panels were replaced with aftermarket items. The petrol tank was flushed out, and the Amal MkII carbs were stripped, cleaned, and rebuilt using Amal major repair kits. New carb intake rubbers, ethanol-resistant fuel taps, fuel lines, and a handlebar-mounted remote choke lever were fitted.
If the bike is left for any length of time, the battery is trickle charged on an Oxford Oximiser charger, and the clutch lever is cable-tied back to the handlebar to lessen the chance of the clutch plates sticking.
Owners, Workshop and Spare Parts Manuals, original silencer, side panels, air filter boxes (incomplete), carb-mounted chokes and fittings, seat lock barrel, and fittings will be supplied loose with the bike.
The V5C is in my name, and the engine number, frame number, and color are correct and match the bike. I have only done about 500 miles on the bike, and as my circumstances have changed since I bought it, I am reducing my collection of projects/bikes.
Please study the photos carefully. I have described the bike as honestly as I can. However, it is my opinion, and please remember that the bike is used and may have age-related wear and tear as it is over 43 years old. No warranty is given or implied, and no returns are accepted. All sensible questions will be answered via eBay's "Ask a question" email facility.
Please check my other items for sale. I have 100% positive feedback as an honest, reliable, and genuine seller and buyer on eBay. Payment via eBay/PayPal and not cash on collection
eBay item number: 195693261974