1979 Suzuki GS850G TAX and MOT Exempt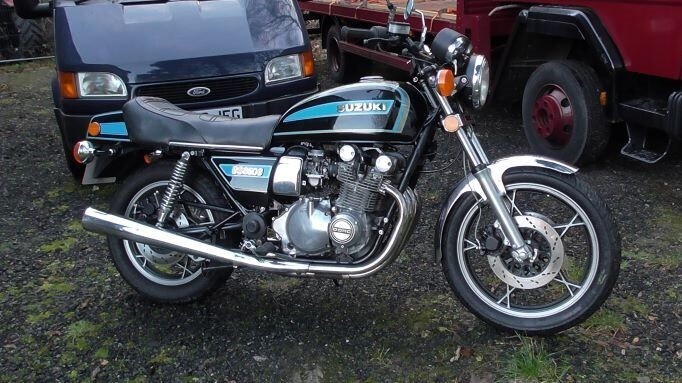 1979 Suzuki GS850G TAX and MOT exempt
I Have owned the bike since 2018 and it was my brothers bike before me .The Suzuki was first registered in the UK in December 1979 and has had 22 previous owners .It is showing just short of 20k on the odometer . He gave the bike a heavy restoration in 2015/2016 . The bike was stripped back to a bare frame and was sent of for powder coating , the fuel tank , side panels , rear cowling and both wheels were also sent away for re-spraying . The brake callipers were re-conditioned and new discs , brake pads and brakes pipes were fitted . He stripped down the front forks and fitted them with new seals . The saddle was re-covered and the base of the seat is in very good condition . The chrome work is in very good condition . The engine didn't require any attention , it is a bit smokey on start up but clears when the engine has warmed up .
As I say I bought the bike of him in 2018 were it languished in my garage for a couple of years and in 2020 I decided to get it re-commissioned and put through it's mot .
The bike had very little use since its mot and has covered only 65 miles since then . A few weeks back I put a brand new battery on it and put some fresh fuel in the tank . It hadn't been started for about 14 months and it took a little bit of coaxing back into life and now starts ok although it could probably benefit by having the carbs cleaned out and maybe a tune up it could be running a little rich. Although the tyres have legal tread depth on them they could probably do with changing as I don't know how old they are . The rev counter has become sticky and is probably due to it having been stood this last 14 months or so.
Please if you haven't already done so watch the video as it is far better than words and pictures.
Post expires: 21-02-2023