1976 Kawasaki Z900 A4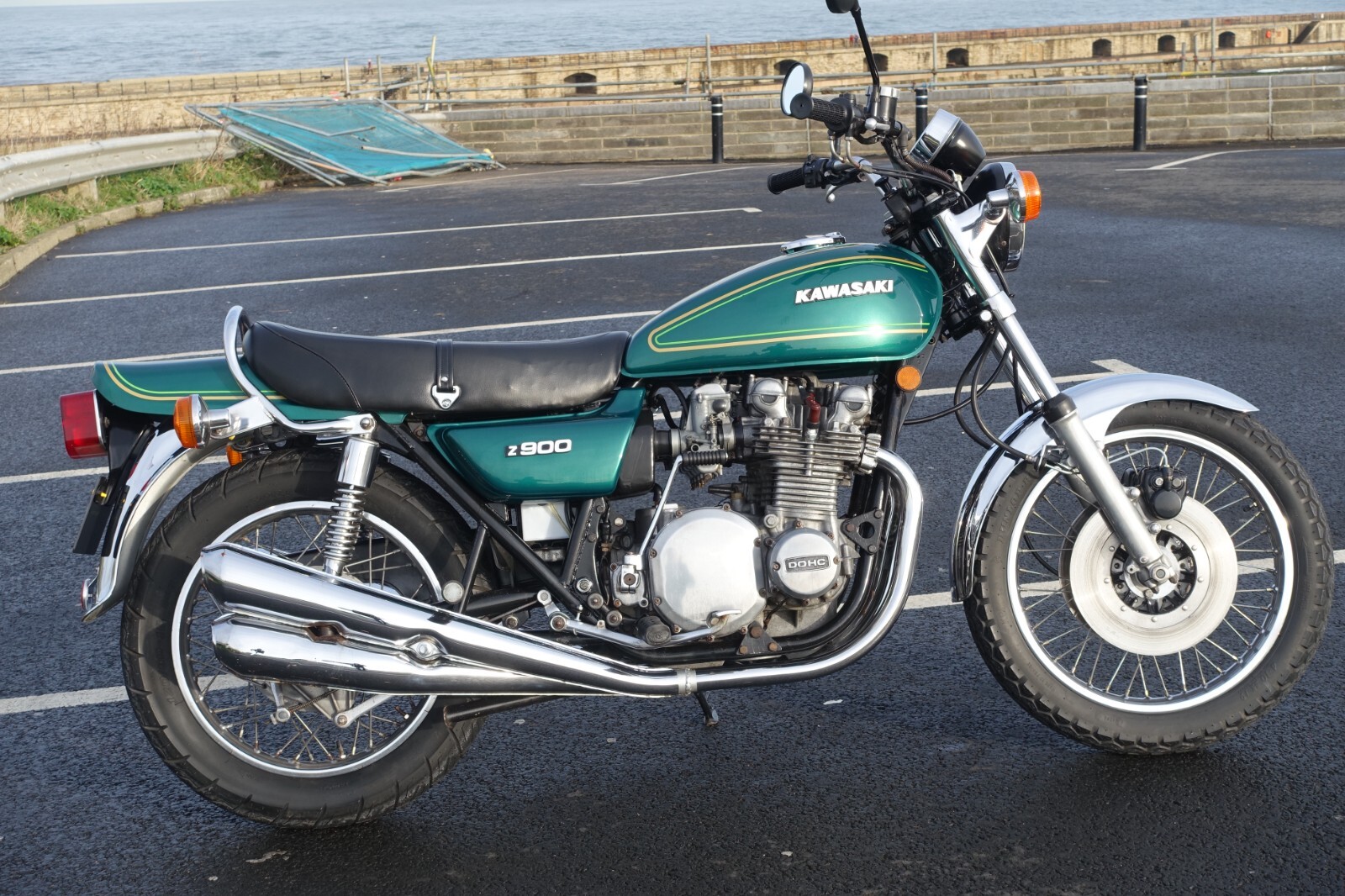 I bought this bike just before Covid lockdowns, but in the 3 years since then the enthusiasm I had to get it sorted has dimmed.
I wanted a bike which was a great rideable runner but still recognisably a 47 year old bike (not an exercise in recreating a showroom condition show-piece). I've done as much as I can using a local classic motorcycle specialist and updating some non-correct and cosmetic items myself.
If you have the skills to complete the project (which I don't) then this bike is not far from being an authentic classic
Work carried out by local classic motorcycle specialist:
carbs removed, ultra-sonically cleaned, then set and balanced to factory specs
repair to spark plug threading on number 2 cylinder
valve clearances adjusted and six shims replaced
timing dwell angle reset and points gap adjusted
fuel hoses and overflow pipes replaced
coil wiring repaired, coils checked for efficiency and then strobe timed
Minor work carried out by me:
air cleaner silencer (snorkel (reproduction)) sourced and installed
replaced Z1 battery (too tall) with a Motobatt MB10U AGM gel battery
fuel tap replaced with OEM style tap
engine oil replaced with Motul 5100 4T 10W-40 4 stroke oil
It's possible that this was imported from the US, however it has the twin front discs, rear indicator light mounts, and rear mudguard of a British spec bike so I'm unsure.
I have the bike registered as a Historic Vehicle so it gets free road tax and is exempt from MoT requirements
This is an honest reliable and rideable motorcycle. It's not let me down. However I would describe it as an ongoing project…
There are a couple of issues which still require sorting out: there is a tear in the skin of the lower silencer on the right hand side of the bike, there is damage to 4 or 5 fins on the leftmost cylinder head (I'm told it can be welded), and there is a minor indentation in the petrol tank (paint undamaged). The hazard light switch doesn't work.
All invoices (since I bought the bike) will be included. I have the V5C.