1976 Honda Cb 550 Four K Hardtail Chopper Runs And Rides Project Spares/Repairs
View on eBay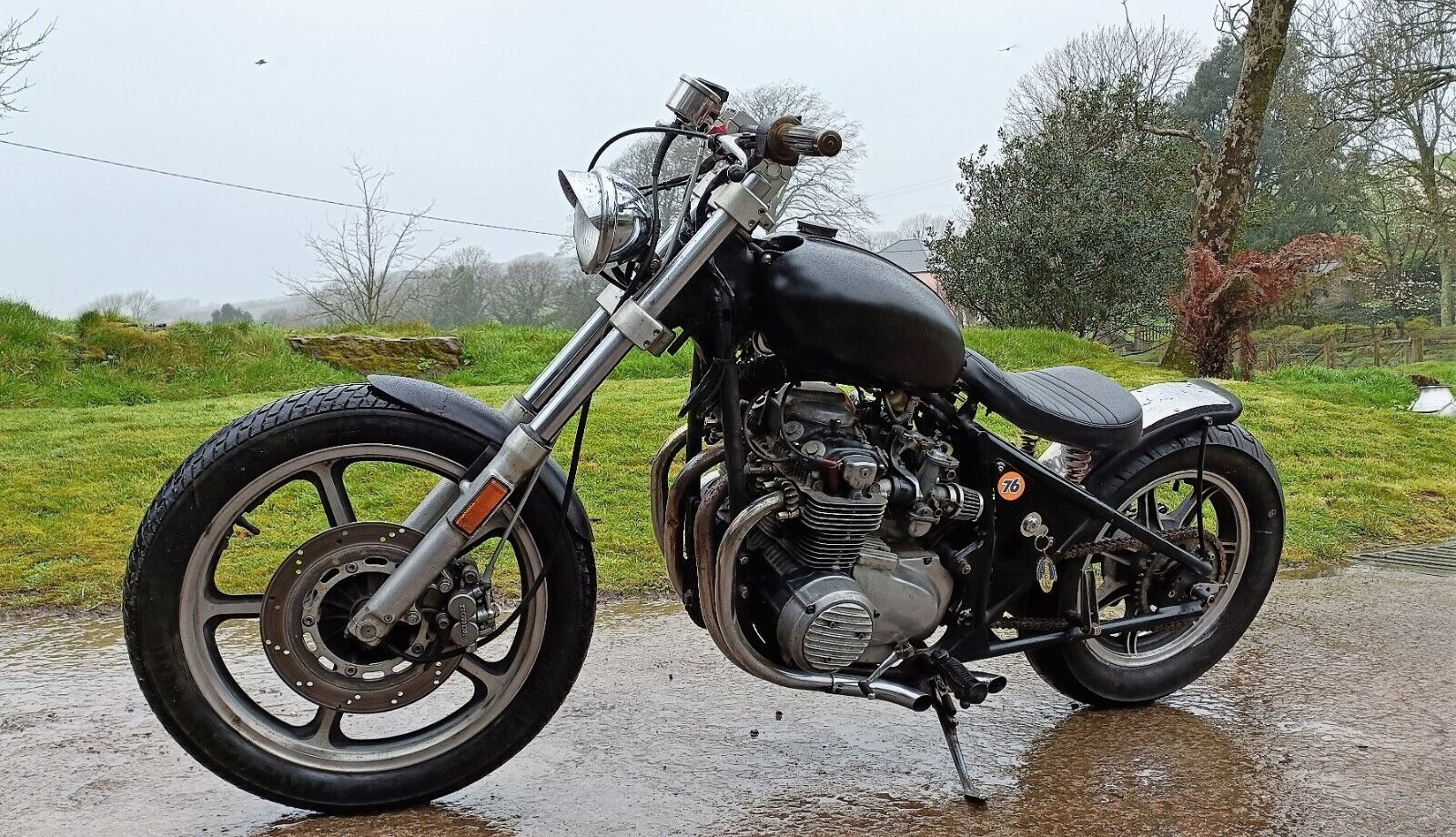 1976 Honda Cb 550 Four K Hardtail Chopper Runs And Rides Project Spares/Repairs
Old School Chopper. Reg'd as Historic Vehicle on V5.
Up for auction is a 1976 Honda CB550 Four Hardtail Chopper that has been registered as a historic vehicle and comes with a V5, MOT from 2019, and ignition key. It has very low mileage at 8051 and is currently on SORN. The engine starts up easily, either on the electric start or the kick start, and sounds good. The bike has a homemade frame, with a solid rear wheel that is slightly off-center on the axis. The frame has been hardtailed, and the front end features billet yokes with a beefy disc and caliper. The forks are in good condition with no pitting, but could be dropped through a fair bit more if desired.
The bike has been fitted with new fork tubes and seals, Fekked footrests, gear pedal, brake shoes, chain and sprockets, tank decals, brake and clutch cables, kill switch, handlebars, kickstart lever, kickstart shaft, engine gaskets, main bearings, gearbox bearings, cylinder head studs and nuts, and spark plug. The fork sliders, brake pedal, frame, and swingarm have been blasted and powder-coated, and the engine cases have been vapor-blasted and cerakoted with all new JIS screws. The bike features a rear seat, 4 into 4 fairly straight-through pipes that sound nice, and ignition, lights, horn, and other features that work well.
The bike is being sold as spares or repairs due to its age and its homemade frame, and is being sold as seen. The seller welcomes interested buyers to come and view the bike, or can email additional pictures for a closer look. The seller is a trader with over 28 years of experience in the industry and is happy to answer any questions. Payment is accepted in cash on collection or by bank transfer within seven days of the auction end. The winning bidder should contact the seller within 24 hours to confirm their status as a genuine buyer.
eBay item number: 266175625462