1975 Suzuki RE5 Classic Motorcycle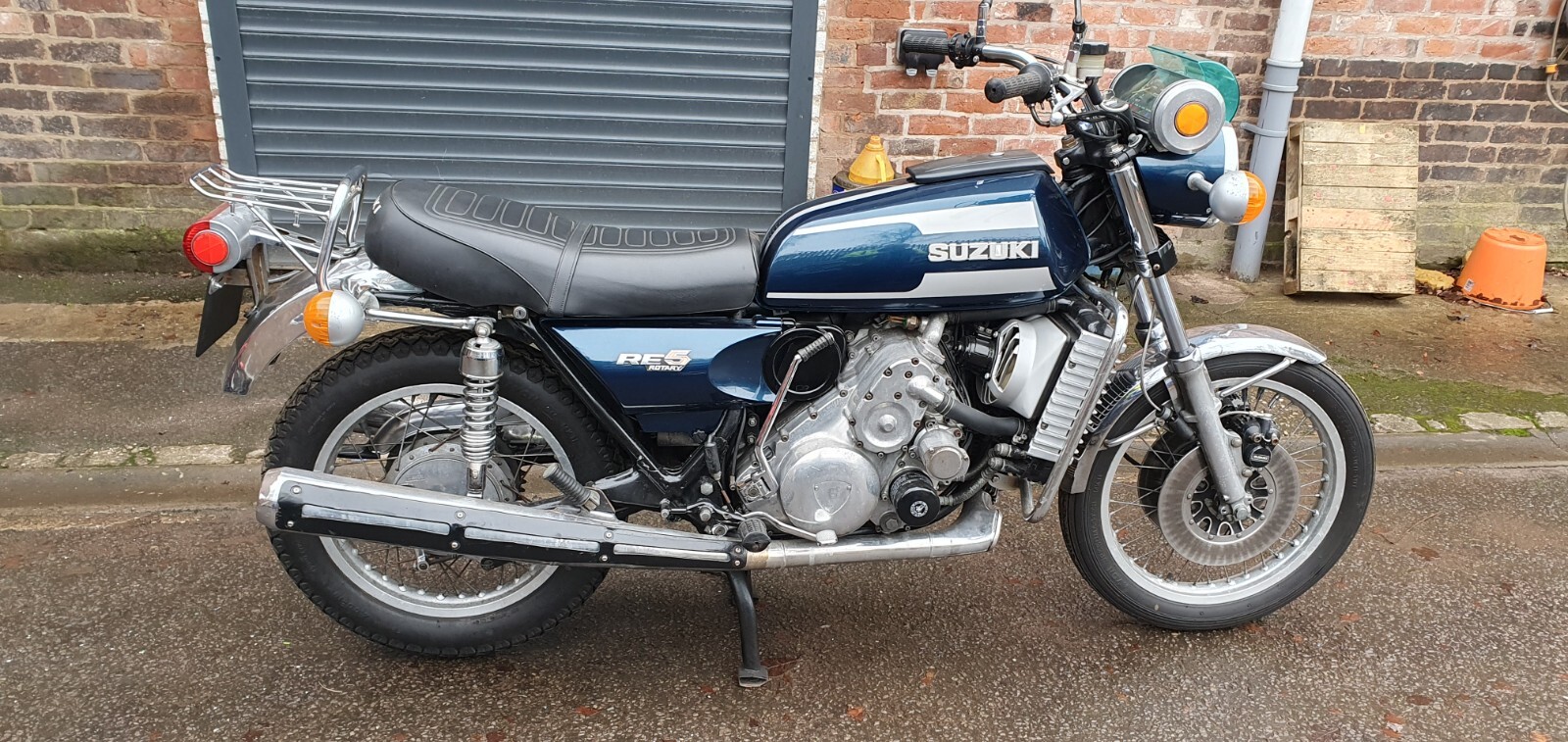 1975 Suzuki RE5 Classic Motorcycle
I believe this to be an older restoration, very complete and in good mechanical condition. It would benefit from some cosmetic restoration or could be ridden as is for the next few years. I purchased the bike in Jan 2022 as a non-runner and after compression testing decided to get the bike usable. Having used the bike this summer and covered about 2000 miles. My circumstances have changed, and I have to reduce my collection. I have a couple of these so one has to go.
The following work was done re commissioning the bike.
New tyres and tubes front and rear. Wheels straightened and balanced. Bearings checked, brakes cleaned and checked and fluid in front replaced.
Forks cleaned and checked, minimum chips and corrosion. The action is fine but the seals will need doing at some point to be perfect. Head stock bearings checked. All cables checked, lubricated and adjusted. Clutch cable replaced.
New battery, lights all checked and working bulbs replaced as required. All dashboard lights check and replaced as required. Original spark plug in tool box with repro tool roll. Sparkplug adapter to use allow use of modern plugs.
All rubber hoses checked and replaced as required. Clips replaced as required. Water pump checked and reconditioned. Header tank repaired. Temperature gauge and sensor all working correctly.
The carb was stripped and ultra-sonically cleaned. The diaphragm and other rubber parts replaced. The jets were set back to standard. The carb was then refitted and adjusted. For anyone who has never seen the carb on this bike they are a work of art but need to be setting up correctly.
The sprag clutch on the started was replaced and the primary chain checked and looks new. The oil pump was checked and the two stroke oil pump was checked and calibrated.
The exhaust system is good but there is some light rust. The seat is in good condition and there is a period rack fitted.