1975 Honda CL360K1 Unregistered US Import
View on eBay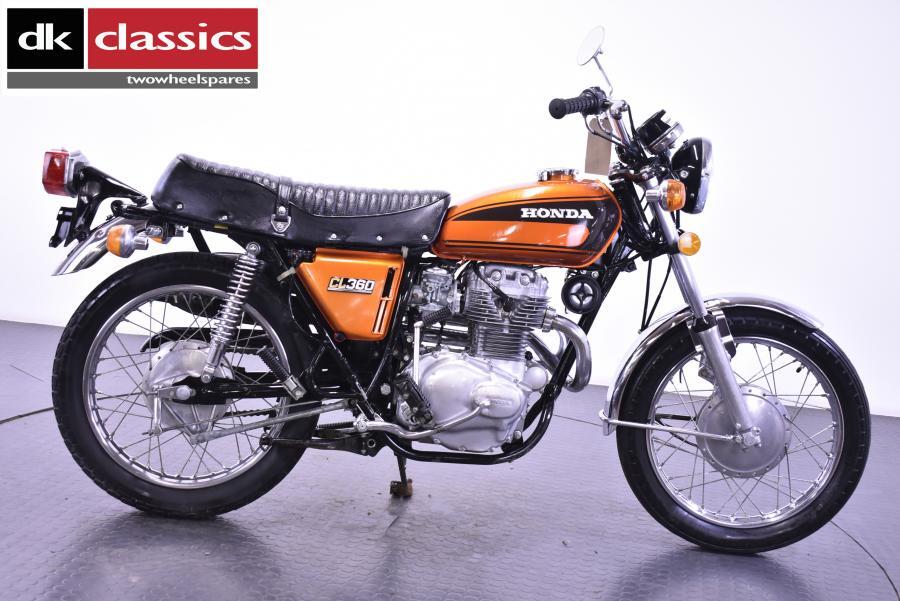 1975 Honda CL360K1 Unregistered US Import 
This 1975 Honda CL360K1 Scrambler is a highly sought-after bike and has recently been imported from North America, where it has been in dry storage for a considerable time. Although it shows 5566 miles on the clock, the mileage reading cannot be confirmed. The bike is in original condition and is nearly complete, missing only the r/h mirror, kill knob, and the ball-end off the front brake lever. The battery is flat, the paintwork is faded, and the fuel tank is mucky inside. The r/h side panel has a broken grille.
The wheels are straight with nice clean chrome rims, good hubs, and brake plates. The forks and yokes look straight and clean, and the mudguards are both solid and tidy. The taillight assembly, headlight, and hangers are all good, and the indicators and chain guard are tidy. The instruments look good, and the carburettors are free sliding off the twist grip. The exhausts are original, solid, and presentable, and the seat is in good condition throughout.
The engine is cosmetically very clean and turns over nicely off the kick starter. It sounds and feels great and has compression. When hooked up to a good battery and fed fresh fuel, the bike fires, starts, runs, and revs nicely. The paintwork is nicely faded, and the fuel tank has just minor dents, marks, and scratches in the original paint. Overall, this is a great find for anyone looking to restore a classic Honda CL360K1 Scrambler.
eBay item number: 314468528981