1975 Honda CB750 K5
View on eBay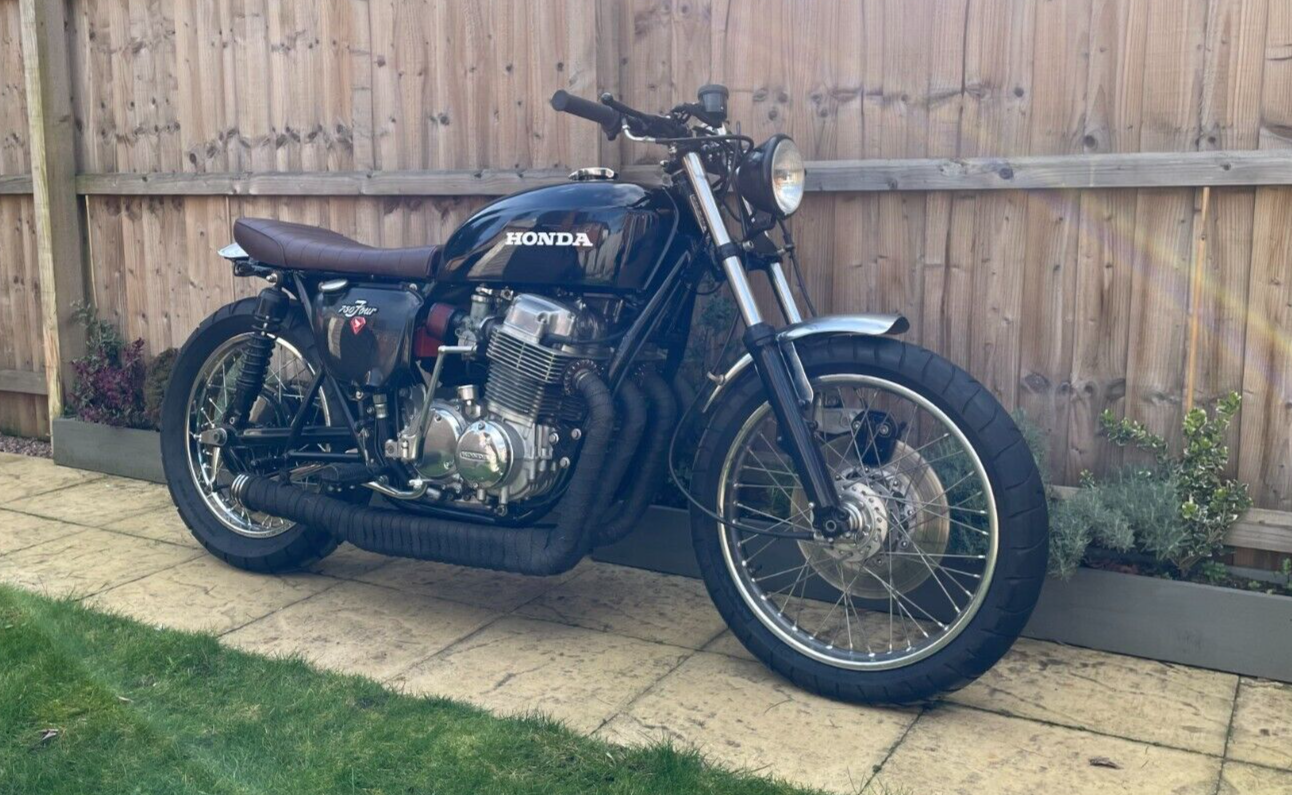 For sale is my beautifully restored 1975 Honda CB750 K5. Originally made for the US market, it was imported to the UK in 2016 and assessed by the Vintage Japanese Motorcycle Club to confirm its engine and frame numbers, making it eligible for an age-related registration plate from the DVLA (K reg). I stored the bike for a few years before completing a full restoration, including stripping it down to the bare frame for powder coating and replacing/upgrading many parts. The bike has only covered 275 miles since the restoration, bringing the total mileage from new to 17,577 miles. The original clocks are included to confirm the mileage.
Here are some of the main points addressed during the restoration:
Powder-coated frame, swingarm, yokes, fork legs, etc.
New OEM tank with custom Honda decals
New side panels
Honda Fireblade clutch and brake master cylinder with upgraded braided HEL brake line
Sealed yoke bearings
Rebuilt forks with new seals
New headlight
New bars
New speedo with custom bracket
Custom start button fitted in yoke
New OEM wiring loom
Modern regulator/rectifier upgrade
New main fuse (replacing glass fuses for a thermal fuse)
Rebuilt and balanced carbs
Oval air filters
Oil pressure gauge (see photo)
New chain and sprockets
Pressed metal reg plate with side mount reg plate bracket
Retrimmed seat (with minimal padding)
Wrapped 4 into 1 exhaust (no baffle, very loud)
New rear wheel with new bearings
New front pads and rear drum shoes
Tail light hidden under rear fender
New throttle, clutch, and speedo cables
There are some signs of age, such as pitting on the front wheel (shown in one of the images) and a dented points cover. If the bike sits for a few weeks, it may smoke a little on startup.
Viewing is welcome, and please don't hesitate to contact me with any questions.
Thank you,
Connor
eBay item number: 275760320474