1975 Honda CB550K1 Unregistered US Import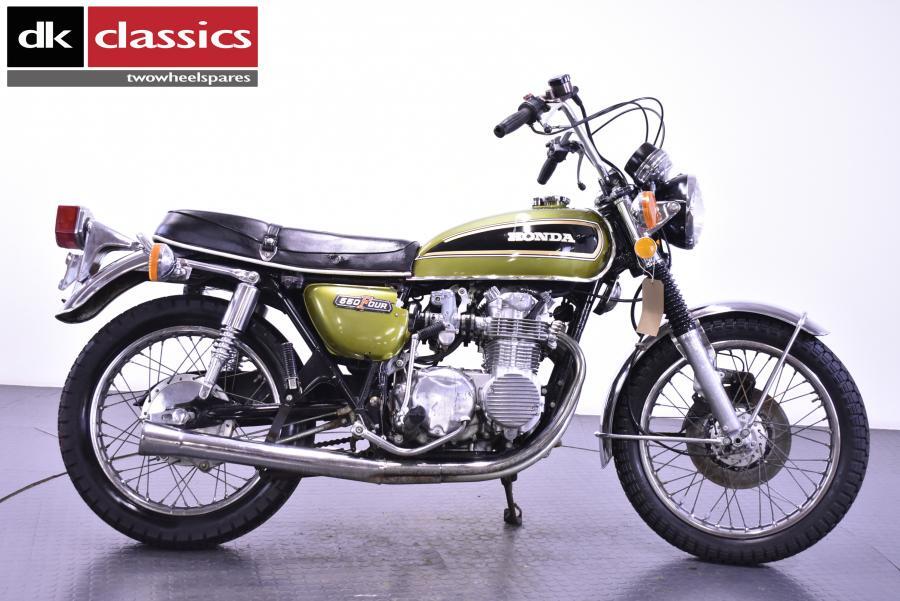 1975 Honda CB550K1 Unregistered US Import 
The Tax & MOT exempt 1975 Honda CB550K1 is being offered for sale by the current owner. The bike has spent all its life in North America and has recently been imported to the UK. It is in good condition, with only 16399 miles on the clock and has been stored in a dry environment for several years.
The bike is missing some parts, including mirrors and the starter button & lights on/off switch off the r/h cluster. The battery is flat, and the paintwork is faded. The master cylinder is not working, and the carburettors are stiff to operate. The speedometer and side panels are broken, and much of the bright chrome is lightly pitted. However, the wheels look straight with clean chrome rims, good hubs & brake plate, disc & caliper. Forks & yokes look straight & clean. Mudguards are both solid, and the taillight assembly is good. The carburettors are just about free sliding off the twist grip, and the paintwork is slightly faded but solid. The fuel tank is useably clean inside and has just minor dents/marks & scratches in the original paint. Exhausts are non-original & solid. Seat base is in very good condition throughout. Indicators are reasonably tidy, and the chain guard is tidy, as is the grab rail.
The engine turns over nicely off the kick starter and sounds/feels great. When hooked up to a good battery & fed with fresh fuel, it fires, starts, runs & revs. However, it is obvious that the carbs need attention as they were leaking fuel. The bike comes with a lot of paperwork, including an invoice from David Silvers for parts. The current owner is selling due to a lack of space in the garage. Please take a good look at the pictures and feel free to ask any questions.