1975 Honda CB125s Project Bike
View on eBay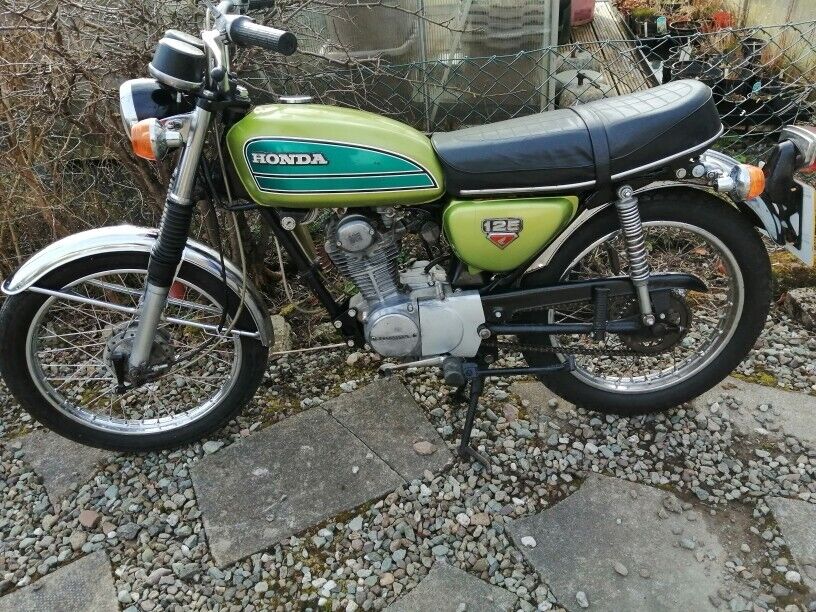 1975 Honda CB125s Project Bike

Up for auction is a 1975 Honda CB125s project bike. This bike has been off the road for many years and has only had one owner for most of that time. As a historic vehicle, it is not required to have MOT or road tax. I purchased it last October as a winter project to work on. When I acquired it, the bike wasn't running, but after a bit of fettling, I had it running on the first or second kick. Since then, it has been started several times, but I only rode it around my garden.
I've replaced the battery, output shaft seal, fork seals and oil, speedo cable, carb insulator, and front mudguard (original corroded one available if required). I never intended to restore the bike to its original condition and have left the aged patina. The tank has been resprayed some time ago and touched up, and the bike has the expected surface corrosion and age-related marks but is complete and original.
The electrics are typical of very poor 6v electrics that I haven't addressed, and the lights require attention to brighten them up.
Unfortunately, I am now frustrated to find that I can't start the bike after not trying to start it for a few weeks. However, as it turns over easily, I believe that there can't be much wrong with it. I'm selling it as a project and as seen. If I have the time, I will try to get it running prior to the sale. If it doesn't sell, I will keep it to tinker with next winter when I have more free time. I have the V5 in my name, two keys, and the Haynes manual.
The bike can be viewed in the Stirling area FK8 by arrangement, and payment can be made by bank transfer or cash. The buyer should make contact at the time of sale to arrange payment and uplift as soon as possible. The auction will run to the end, and there is no buy-it-now price. I can assist with delivery in Central Scotland by mutual agreement.
Good luck with the bidding!
eBay item number: 175639941751