1973 Honda Z50a Road Legal Tax Exempt Mini Bike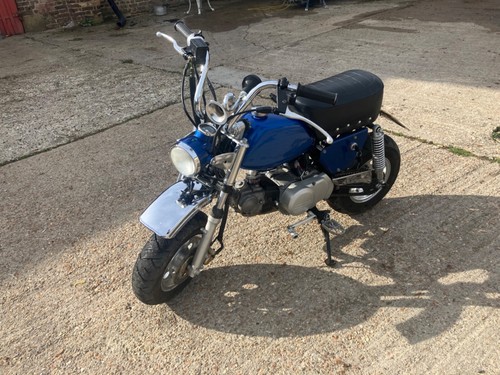 1973 Honda Z50a Road Legal Tax Exempt Mini Bike

A beautifully restored Honda Z50A Monkey bike is now available. The current owner has taken great care in restoring this classic motorcycle to its former glory. The frame and swing arm were blast cleaned and repainted, with all original Honda stickers reapplied. The engine casings are original and date back to the 1970s, and the bike is now exempt from both MOT and road tax.
The engine has been upgraded with a 110cc cylinder that produces a significant amount of torque, and it is fitted with a 12V crank and generator from a newer C90, as well as an electronic CDI ignition system. The bike is still registered as a 49cc on the V5.
This Honda Z50A is equipped with a standard three-speed transmission, but a manual clutch has been added for more control, especially at low speeds. The bike also has an improved front fork with a front disc brake for better stopping power and road tires for a smooth ride.
The pea shooter style exhaust provides a fantastic sound when the bike is in motion. The current gearing has not been tested to reach top speed, but a speed of 45-50 mph can be expected.
Please note, the photos have been updated. If you're interested, don't hesitate to reach out to the owner for more information.