1973 Honda CL350 (K5) Street Scrambler Good Runner with V5C Doc
View on eBay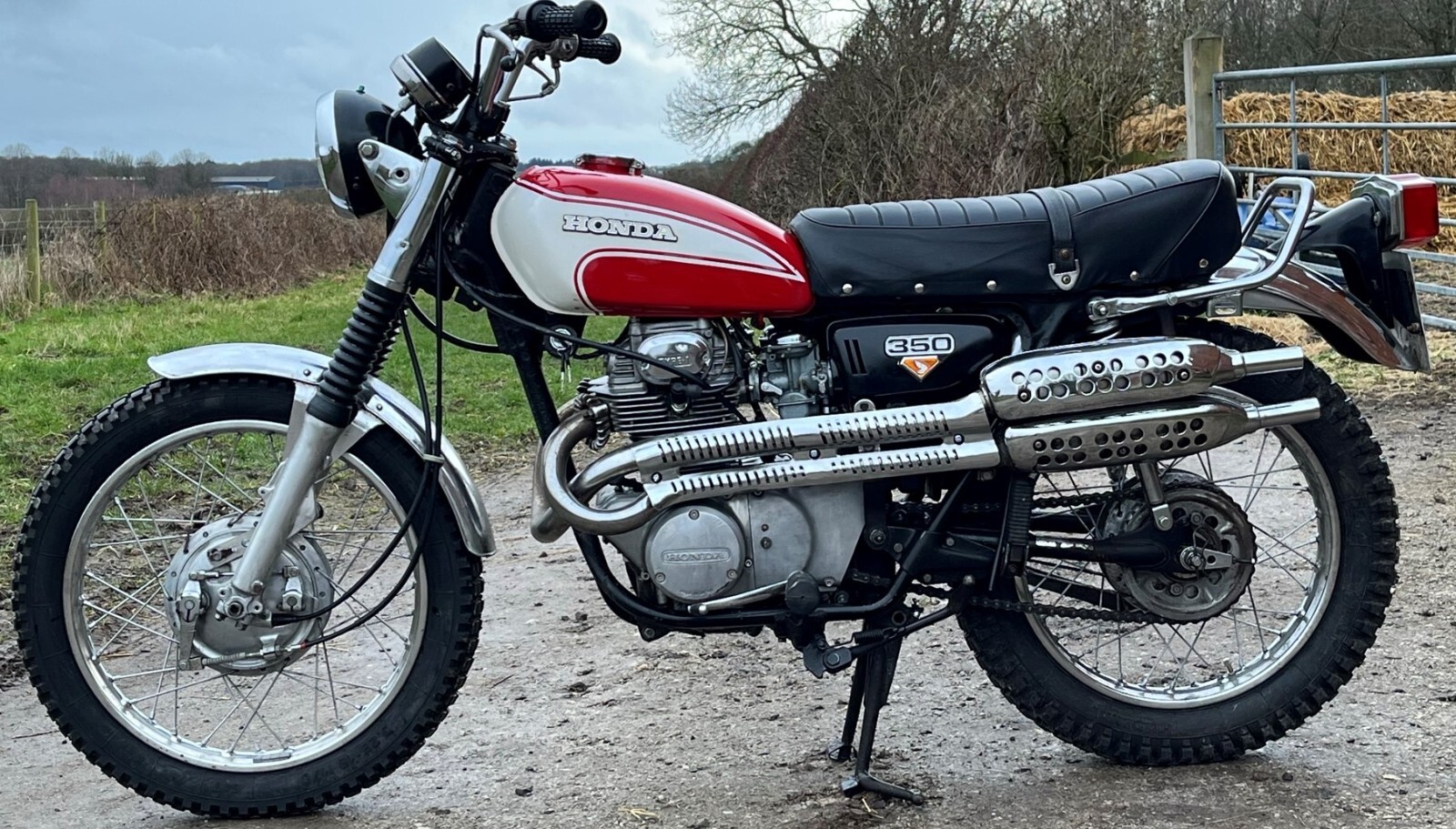 1973 Honda CL350 (K5) Street Scrambler Good Runner With V5C Doc 
Offered for sale is a classic 1973 Honda CL350 K5 Street Scrambler that was imported from the USA, where these models were highly popular. This electric start CL350 is known for its reliability and ease of use compared to the outgoing British models of the period. With excellent handling, brakes, and lights, and a top speed of 60+mph, this bike is perfect for daily commuting.
The engine of this CL350 Street Scrambler sounds superb and is oil-tight with no smoke. The 5-speed gearbox and clutch are spot on, and the brakes are really brilliant. The bike comes with V5C doc, registration number YNE 146L, and is registered for Historic Vehicle road tax, making it free of charge and MOT exempt.
Cosmetically, this bike is above average for an unrestored example. The paint on the frame is original and has some thin areas, but it is generally sound. The front wheel rim has good chrome, but it has dulled slightly and lost some of its real lustre upon close inspection. The spokes have been silver painted. The exhaust system is a bit tarnished but is generally sound. The seat, side and centre stands are all in very good condition.
This bike is a great little bike to ride and enjoy as it is. I would suggest simply riding it, keeping it serviced, and enjoying it for what it is – a nice, honest, 50-year-old Honda!
The bike is selling with NO RESERVE & NO BUY IT NOW! UK & WORLD-WIDE DELIVERY is available, and you are welcome to collect in person. Payment can be made via bank transfer, card payment, or cash on collection.
Please note that all bids from people with overall negative feedback ratings will be cancelled, and bids from new members with zero feedback are welcome but will only be accepted if prior contact is made to confirm their details. Thank you for your understanding.
This is an auction that will run to the end, and there are no early bids or buy-it-now options. Deposits are not required, but please make contact as soon as possible at auction end if you are the lucky winner.
eBay item number: 125812800980