1971 Triumph Bonneville T120R UK Registered Excellent All Round Condition
View on eBay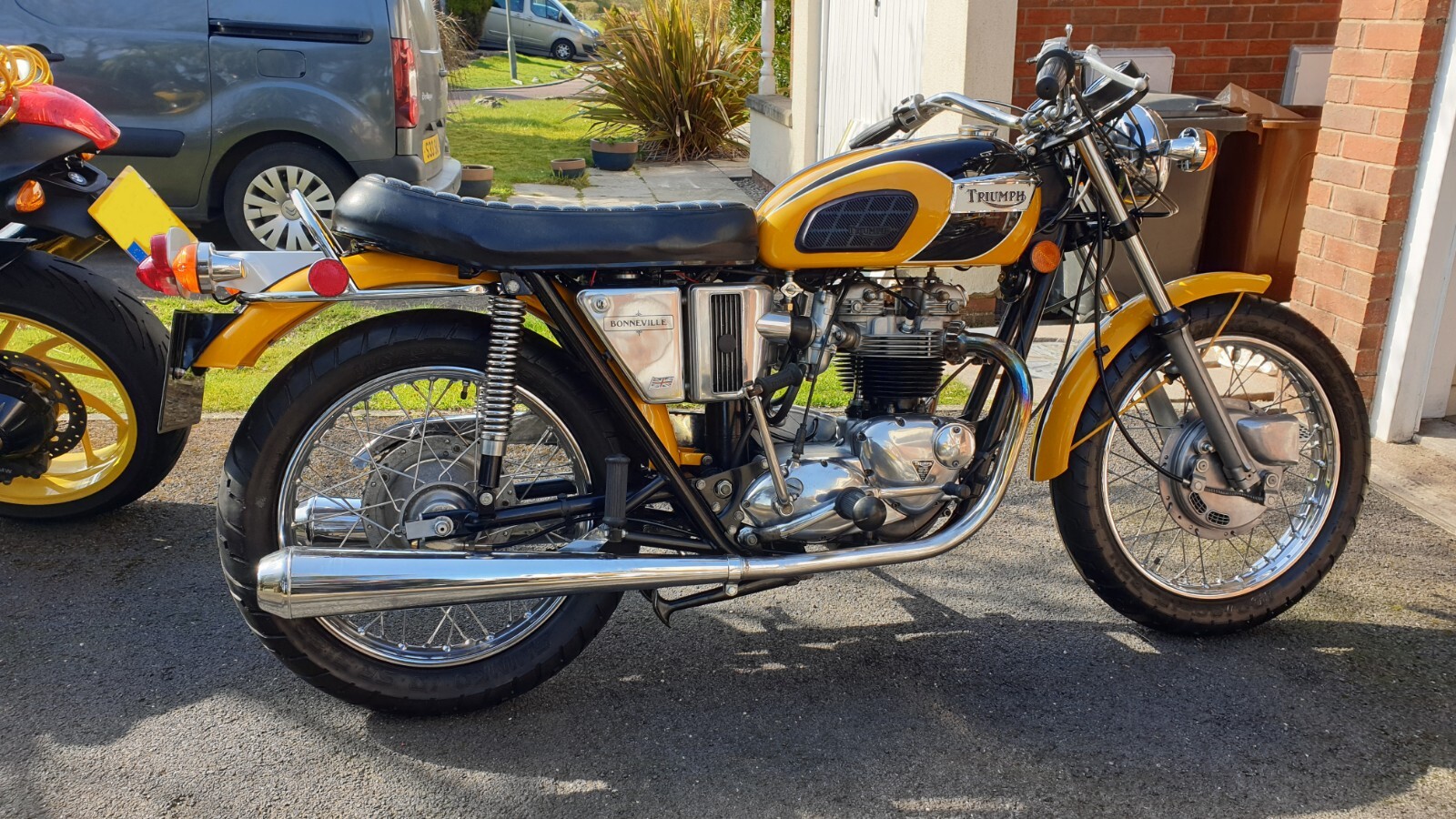 1971 Triumph Bonneville T120R UK Registered Excellent All Round Condition

For sale is a 1971 Triumph Bonneville T120R 650cc OIF Twin in excellent all-round condition. The bike has 20277 miles on the odometer and was originally from the USA, where it was in dry storage and in tired looking condition when bought in 2020. It has been UK registered and the V5C is in the current owner's name. As a 40+ year old bike, it is registered as Historic and no longer requires an MOT and the road tax is free.
The engine was rebuilt by the previous owner and the pistons were visibly new and unused. All lubricants were like new, but the owner changed them to be sure, and there are no oil leaks. The bike is kept in a carpeted centrally heated garage. The carbs were poorly set up out of sync, so the owner had them ultrasonically cleaned and renewed the jets, needles, and floats. The bike starts first or second kick and runs smoothly.
The tank and mudguards have been stripped to bare metal and professionally resprayed to near original gold color as original scheme, but a nicer slightly metallic yellow color. Many new parts have been added, including tyres, all rubbers, battery, petrol taps, Lucas 3 phase stator, reg/rec & coils, Pazon electronic ignition, coils, leads, caps & plugs.
The bike has been ridden nearly 600 miles over the last two years and is nicely run in. The current owner intended to keep it for retirement but cannot get used to the gear and brake pedals being on the opposite sides when swapping between other bikes, so it is regretfully being sold. The new owner should have nothing to do except enjoy riding it and polishing it.
eBay item number: 204284836794